Other Products Your Pet Might Love
Customer Reviews
02/17/2021
Tatyana M.

United States
Greyhound approved
Goes great with the liver protein pack, thank you!
12/15/2020
TANIA M.

United States
Great Super food
Home delivery is great. Great not having to lug the bags from the store to the car from the car to the house. the 45 days shipping schedule is great. The food is pure no by products no artificial anything. Everything a dog needs. Unbeknownst to me my dog was allergic to her previous dog food that manifested itself in excess fungi in her ears. Since using Holi Superfood the problem is gone. Wouldn't use any other dog food.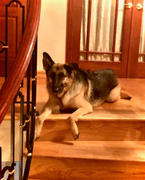 11/30/2020
Gabor K.

US
Great
Both of my dogs love, they have been healthier and more energetic since they have been eating Holiday Chow
11/29/2020
Tania M.

US
Superfood for sure
Before switching to Holi superfood, our dog Lydia was producing mass amounts of fungus in her ears which forced us to clean them at least weekly if not twice a week. About 3 months after switching to Holi superfood the fungus is gone. Vet says that she must have been allergic to her previous dog food.
11/29/2020
Curlycd

US
Gives me peace of mind!
This superfood base is great! was worried that the kibble might be too large for him, but no! He enjoys it and I feel better, knowing that he's getting such good nutrition in each bite. This company knows what they're doing!