What better time for National Puzzle Day than in the middle of winter! These cold days with the sidewalks full of salt can make for some shorter walks, leaving our dogs bouncing off the walls and us scratching our heads wondering what we can do for them during our Zoom meetings. Enter: Interactive Dog Toys. These puzzle-like games have great benefits for your dog's mental (and physical!) health.
To celebrate National Puzzle Day, we're going to be talking about some of the benefits to using puzzle toys in your dog's everyday life, along with our top picks for Holi-treat approved puzzles.
It comes as no surprise that our dogs are smart…sometimes too smart. If left to their own devices, our pets can get into some trouble. Why do we find them sifting through the garbage, ripping up our mail, or digging through our freshly folded laundry? Instinct! Dogs instinctively have a drive to dig, tear, and smell. Puzzles act to stimulate their natural instincts. The ancestors of our sweet couch-loving pups had to work for their meals by problem-solving, chasing, tearing, and teamwork. Now our dogs have the luxury of their food served in their personalized elevated dish mixed with slobber worthy toppers. While our dogs may appreciate not having to search for their next meal, their instinct is still there to work for their food. Using a puzzle toy is a great way to feed entire meals to stimulate their mind. Ever notice how some dogs absolutely inhale their food? Using puzzles for meals can help slow them down and eat more mindfully. This can help reduce bloating, sensitivities, indigestion, vomiting, and can even help with weight management by adding some activity and drive to their mealtime.
---
Food Puzzles are a great way to alleviate boredom and provide the enrichment our pets need to keep them out of trouble. Think of a toddler who is left unattended. They will find something to keep busy, and usually that isn't something great for us. Give them a coloring book and they'll stay busy and out of trouble far longer. If we give our dogs a puzzle that activates their senses, they are less likely to find naughty things to keep themselves busy.
Mental enrichment is extraordinarily important for older dogs who may have a little less physical activity in them. Studies have found puzzles to reduce the likelihood of memory loss in older animals. These toys promote thinking and problem-solving, and they can feel a sense of accomplishment from completing their puzzle. DId you know that fifteen minutes of sniffing for a dog is equivalent to an hour-long walk when it comes to exercise!? A puzzle is like a mental runner's track!
Try this Nina Ottosson Tornado Puzzle!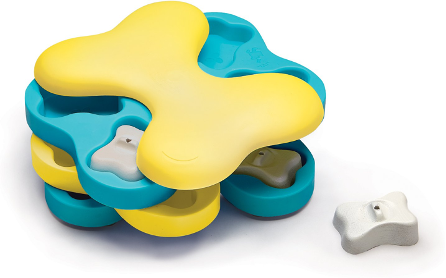 ---
Puzzles can help an anxious dog to calm themselves and reduce stress in certain situations. Pandemic pups have found themselves in a great place to spend all of their time with their parents, but there will likely come a time where you have to leave your home and go to work, or even just want to enjoy dinner at a restaurant. Separation anxiety has been a growing problem in dogs as we find our lives returning to some sort of normalcy. Puzzles can help to alleviate some of this anxiety by giving your dog something to think about instead of fixating on you leaving. With the right training and puzzles filled with irresistible Holi treats, your dog can even look forward to their time alone where they get their favorite snack to work on while you're gone. For anxious dogs, we recommend a lick toy, like a Kong or the Lick Mat shown below. The act of licking releases calming hormones which can help ease an anxious mind.
Try the Sodapup Lick Mat with a paste made from the Holi Protein Packs and water or one of our Superfood Bases!
Of course all of these puzzles pair well with HOLI treats and Superfood Bases. Enjoy puzzling!
---