Other Products Your Pet Might Love
Customer Reviews
07/13/2021
Zoey &.

United States
01/27/2021
Susan F.

United States
01/04/2021
Megan L.

United States
He Likes it! Hey Bonci!
Bonci is the pickiest dog I have ever met. Will literally eat anything of the street but the moment you offer him a biscuit he's like no thank you. But then we discovered the salmon treats at Tom's Pet Supply and he can't get enough. His coat also looks amazing too, fewer mats, good volume, giving us serious Jem and Hologram hair vibes these days. What's not to like?!?!?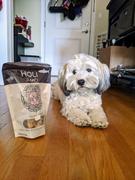 12/27/2020
Kimberly C.

United States
Pup Approved Quality Treats
Stanley (our 10 month old pup) LOVES all Holi Chow treats, but the Wild Caught Salmon treats are hands down his favorite. Because he's a puppy and we primarily use them for training, we cut the treats in half and take them everywhere with us. He can't resist the snackos and we love knowing that he's getting a healthy and nutritious treat.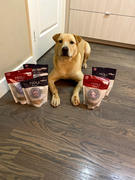 Thanks Kimberly! So glad to hear that Stanley is loving our treats!
07/28/2021
Terri W.

United States
Excellent!
My fur babies love these…and so do my neighbors' dogs!
Thanks Terri! We love knowing that dogs in Hawaii are enjoying HOLI treats :)